Get 2020 off to a healthy start, with our one to one physio-led Pilates classes. It's good to get fit anytime of the year, but after the excesses of Christmas, January tends to give us all a boost. Our individual Pilates classes are taught by Katie, an APPI Pilates trained physio.  If you're  looking to improve your fitness or core strength, then these classes are ideal for you. If you have back pain, Pilates classes taught by your personal physio can help you to gain confidence before joining a larger class setting.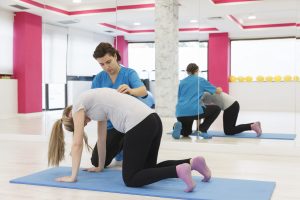 Regular exercise helps give many health benefits, including: weight control, reducing the risk of diabetes and heart disease, improving mood, boosting energy and promoting better sleep.
What are the benefits of Pilates?
Clinical Pilates strengthens  the core muscles to help prevent or rehabilitate from pain. Particularly useful to help with weakness of your neck, back, hips and shoulders. It focuses on core stability, posture, strength, flexibility and breathing. Pilates trains natural, correct and efficient movement, with an emphasis on quality not quantity. Although we may all look different on the outside, we are built the same in terms of muscles, bones and ligaments; however some bodies function better than others. This can be because one person's brain gives better movement information than another, but you can improve this awareness through Pilates, retraining your brain to deliver better motion and alignment.
Our Physio – Led Pilates Classes
Do you have back pain?
Have you been recommended pilates, but are worried about hurting your back?
Do you want to get fit and strong, but know exercise makes your back pain worse?
Our APPI Pilates  trained physio, Katie Hotchkiss will create a personal programme based on your needs. As a Chartered Physiotherapist, she understands your back problem and which exercises are right for you. You will also be given an exercise plan to continue working on at home.
Contact us to book an appointment with Katie.
https://www.premierphysio.com/physio-physiotherapy-pilates-class-runcorn-warrington.php