Did you know that shoulder pain after vaccination is called SIRVA?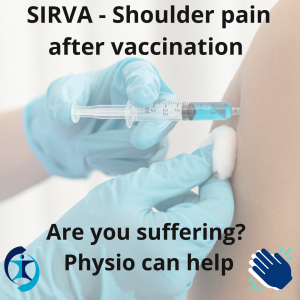 Are you suffering with shoulder pain after a shot in the arm?
For many of us, having some shoulder pain after a vaccine is quite familiar – a tender, bruised feeling lasting just a couple of days. However, when the pain doesn't settle and is accompanied by reduced movement and loss of function, you may be experiencing Shoulder Injury Related to Vaccine Administration (SIRVA). These symptoms can progress and worsen without treatment, potentially developing into more serious issues, such as a frozen shoulder. 
Over the past year, our physiotherapists have treated clients with prolonged shoulder pain and loss of function following Covid vaccinations. If you are experiencing these symptoms, we recommend you reach out for an assessment. It is important to start treatment as quickly as possible, to help ease pain and restore your movement and strength to prevent any further complications.
If you would like to book in to see one of our physios, please contact our reception on 01928 500 557 or you can also email to discuss your requirements via our enquiry form.