At PremierPhysio, we treat you as a whole person and as such, recognise the important connection between mental health and physical health. To complement our holistic practice and best help our clients, we added Cognitive Behavioural Therapy (CBT) to our list of services last year. CBT is an effective treatment for anxiety, stress and depression.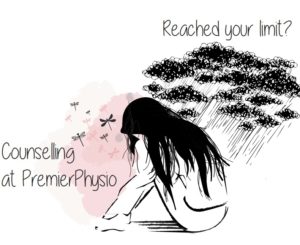 Known for its quick results, CBT has been proved effective for people needing that extra bit of support with the tough times we all go through in life. Everyone's experience is unique and one to one therapy allows you to dedicate private time for yourself, so you can get the tools to help you back on track, feeling stronger and better able to cope with life's challenges.
Mental Health awareness has been raised recently by some high-profile interventions, such as those made by the Duke and Duchess of Cambridge and Prince Harry. Earlier this week, THIS Morning has been applauded by fans for their new mental health campaign,  to spread awareness of the 84 men in the UK that take their own lives every week.
https://www.ok.co.uk/tv/this-morning/1337126/this-morning-praised-holly-phillip-unveil-mental-health-campaign-project-84-male-suicide-calm-itv
There are various ways in which poor mental health has been shown to be detrimental to physical health. For example:
DEPRESSION has be been linked to:
67% increased risk of death from heart disease
50% increased risk of death from cancer
Cognitive behavioral therapy (CBT) has become the leading treatment for anxiety and depression, and with good reason. Research indicates that CBT can be an effective treatment  after as few as 8 sessions.
What is CBT?
CBT aims to assist you in dealing with overwhelming problems in a more positive way, by breaking them down into smaller parts. Identifying and then changing these negative patterns, will help you to start feeling better.
Hopefully this example illustrates how two people's own thoughts & beliefs can cause them to react very differently to the prospect of a job interview:
| THOUGHT | EMOTION | BEHAVIOUR |
| --- | --- | --- |
| I'll do my research, practice in front of family & nail it! | Confident, excited & anticipatory | Completes interview without a problem |
| Why would they want to employ me? I'll fall to pieces. There will be better candidates than me. | Anxious, scared & worried | Puts off practicing. Considers cancelling the interview altogether! |
Unlike some other talking therapies, CBT deals with your current problems, rather than past issues; focusing on practical ways to improve your state of mind on a daily basis.
How does CBT help anxiety?
Anxiety is defined by avoidance and it is important for you to understand that every time you avoid an anxiety-producing situation, your anxiety will be even worse next time. Education can help in understanding why you have anxiety, how it is hurting you, and how a certain amount of anxiety can be beneficial.
Our therapist, Helen will work with you to attempt to change your negative thought patterns, teach you relaxation skills, and change the behaviours that have lead to your problem worsening.
http://www.babcp.com/Public/What-is-CBT.aspx
You can read more about our CBT service and therapist, Helen Greenland here:
http://www.premierphysio.com/cognitive-behavioural-speech-talking-therapy-runcorn-warrington.php
Please contact our reception on 01928 500 557 to book an appointment or for a confidential discussion with Helen. Evening appointments are available. You can also email to discuss your requirements via our enquiry form.